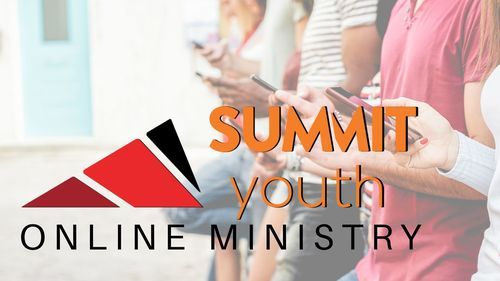 Hello SUMMIT Youth Families,

I want to start by letting you know that in this new season of life, family, and ministry, SUMMIT Youth is committed to continuing to serve you each and every week. Thus, if you are in need of prayer or practical support in anyway, please reach out directly to me, our church office (403-242-3431) or on our website at Prayer & Support. Further, it is our continued goal to see our youth "Know God, Be Like Jesus, and Change the World," by providing them with engaging material and consistent community. Finally, we will continue to work at creating environments for our youth to enter into community in this season of social distancing. Our SUMMIT Youth leadership team remains committed to mentoring and discipling young people, even in this season of social distancing."

Pastor Quinn Johnston
Pastor - Youth Ministries


SUMMIT Youth Wednesday Nights have always been a place where students can come and feel loved, welcomed, and explore faith together. As we move from a physical gathering to meeting online, SUMMIT Youth Wednesday Nights will continue to be these things. In addition, we have always desired to make our gatherings fun and engaging. Therefore, we will continue to provide games, a message, as well as small group times for our students to laugh and pray with individuals their age. These meetings will now take place on Zoom.
Lunch time is one of the most valuable parts of a student's day. It's when they refuel for the rest of the day, but it's also their opportunity to connect with friends, laugh together, and have great conversations. We've decided to fill the gap as students lose this opportunity by providing a cafeteria style dining experience, virtually. Students can grab their lunch and join us on Zoom at noon every Monday.
Westlife has always made it a priority to offer a multigenerational Sunday Service experience. Therefore, we encourage you to invite your students to join you as we worship and learn together. You can join us online at 10am on our website (westlifechurch.ca), app (available in
app store), Facebook (Westlife Church), or YouTube (Westlife Church).
We want to continue to personally connect and build into student's lives, so we will be in regular contact with students to check-in, see how they are doing and offering prayer and support. We have an amazing leadership team that has communicated a desire to remain connected with students in the midst of social distancing. We want you to know, that SUMMIT Youth is committed to helping our students continue to grow during this season of change and uncertainty.